Neoklassischer Marxismus?
Wie ideologisch ist die linke Kritik an der Geldpolitik?
Schlagworte:
Geldpolitik, Marxismus, Ideologie, Finanzkapital, Werttheorie
Abstract
A couple of years after the outbreak of the financial crisis, a discussion about money creation from a political economy perspective has finally been initiated again, analyzing the interaction between commercial and central banks. Neo-Marxist approaches, though, are to a large extent unaffected by this discussion – which is based on Joseph Schumpeter's Theory of Economic Development (1911) – or even completely reject the idea of a money-creation out of nothing. Two Neo-Marxist articles are exemplary of this deficit of monetary theories. On the one hand, the influential book Political Economy of Financial Markets (1999) by Jörg Huffschmid, which has constituted the paradigm of capitalism being driven by financial markets. On the other hand Political Economy of Money (2012) by Stephan Krüger, which assumes that the value of money is still based on the respective production of gold. Consequently, these approaches unintended trigger an adherence to the Neoclassical dichotomy of "real economy" and "monetary sphere", albeit with different rationales.
Downloads
Keine Nutzungsdaten vorhanden.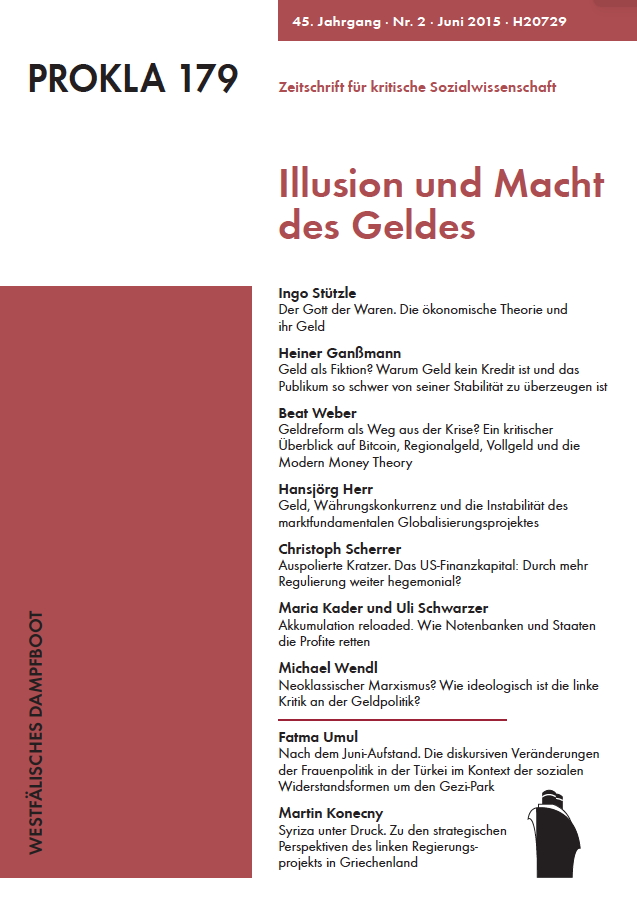 Rubrik
Artikel des Heftschwerpunkts