Industrieller Goldbergbau und ländliche Entwicklung.
Eine Analyse des politischen Einflusses transnationaler Bergbauunternehmen im südlichen Patagonien
Schlagworte:
Extraktivismus, Lateinamerika, Bergbauunternehmen, Corporate Social Responsibility
Abstract
Der Beitrag analysiert die demokratie- und entwicklungspolitischen Auswirkungen der Aktivitäten transnationaler Bergbauunternehmen in den Abbauregionen industrieller Goldminenprojekte. Anhand einer Fallstudie im südlichen Patagonien untersuche ich ihre Strategien, um soziale Akzeptanz für ihre Minen herzustellen. Hierfür unterscheide ich zwischen einer sozialräumlichen, politisch-institutionellen und inhaltlichen Dimension der Einflussnahme. Der Beitrag kommt zu dem Schluss, dass Bergbauunternehmen ihre Interessen in den Abbauregionen verräumlichen, eine Informalisierung politischer Partizipation vorantreiben und zur Privatisierung lokaler Politik beitragen.
Downloads
Keine Nutzungsdaten vorhanden.
Literaturhinweise
Álvarez Huwiler, Laura u.a. (2015): Expansión minera y protesta social en Argentina y Perú. In: Investigaciones Sociales 19 (53): 169-186.
Bandieri, Susana (2005): Historia de la Patagonia. Buenos Aires.
Bebbington, Anthony (Hg.) (2012): Social Conflict, Economic Development and Extractive Industry: Evidence from South America. Abingdon.
Bechtum, Alexandra (2021, i.E.): Transnationale Bergbauunternehmen und lokale Politik. Eine Fallstudie zum industriellen Goldbergbau in Argentinien. Bielefeld.
Belina, Bernd (2013): Raum: zu den Grundlagen eines historisch-geographischen Materialismus. Münster.
Bridge, Gavin (2004): Mapping the Bonanza: Geographies of Mining Investment in an Era of Neoliberal Reform. In: The Professional Geographer 56 (3): 406-421.
Brown, Kendall W. (2012): A History of Mining in Latin America: From the Colonial Era to the Present. Albuquerque.
Clemenceau, Lautaro (2019): Mercado de trabajo minero en la Argentina en el siglo XXI. In: Estudios del Trabajo 58: 1-28.
Composto, Claudia / Navarro, Mina Lorena (2012): Estados, transnacionales extractivas y comunidades movilizadas: dominación y resistencias en torno de la minería a gran escala en América Latina. In: Theomai 25: 58-78.
Conde, Marta / Le Billon, Philippe (2017): Why Do Some Communities Resist Mining Projects While Others Do Not? In: The Extractive Industries and Society 4: 681-697.
Cornwall, Andrea (2002): Making Spaces, Changing Places: Situating Participation in Development. In: IDS working paper 107.
Cornwall, Andrea (2004): Introduction: New Democratic Spaces? The Politics and Dynamics of Institutionalised Participation. In: IDS Bulletin 35 (2): 1-10.
Devenin, Veronica / Bianchi, Constanza (2019): Characterizing a Mining Space: Analysis from Case Studies in Chile and Australia. In: Resources Policy 63: 1-17.
Dietz, Kristina / Engels, Bettina (Hg.) (2017): Contested Extractivism, Society and the State Struggles over Mining and Land. Basingstoke.
Dougherty, Michael L. (2016): From Global Peripheries to the Earth's Core: The New Extraction in Latin America. In: Deonandan, Kalowatie / Dougherty, Michael L. (Hg.): Mining in Latin America: Critical Approaches to the New Extraction. Abingdon: 3-24.
Galafassi, Guido (2011): Acumulación y hegemonía en las Tres Patagonias. Una lectura crítica sobre la historia regional. In: Galafassi, Guido (Hg.): Ejercicios de hegemonía: lecturas de la Argentina contemporánea a la luz del pensamiento de Antonio Gramsci. Buenos Aires: 15-82.
Giarracca, Norma / Teubal, Miguel (2013): Las actividades extractivas en la Argentina. In: Giarracca, Norma / Teubal, Miguel (Hg.): Actividades extractivas en expansión: ¿reprimarización de la economía argentina? Buenos Aires: 19-43.
Godfrid, Julieta (2017): Procesos de reconfiguración territorial rural a partir de la implementación de megaproyectos mineros. El caso de La Alumbrera en Argentina. In: RIVAR 3 (10): 45-70.
Gustafsson, Maria-Therese (2018): Private Politics and Peasant Mobilization: Mining in Peru. Basingstoke.
Gutiérrez, Ricardo A. / Isuani, Fernando J. (2014): La emergencia del ambientalismo estatal y social en Argentina. In: Revista de Administração Pública 48 (2): 295-332.
Haslam, Paul Alexander (2021): The Micro-Politics of Corporate Responsibility: How Companies Shape Protest in Communities Affected by Mining. In: World Development 139: 1-14.
Hibou, Béatrice (2004): From Privatising the Economy to Privatising the State: An Analysis of the Continual Formation of the State. In: Hibou, Béatrice (Hg.): Privatising the State. London: 1-46.
INDEC (2015): Estimaciones de población por sexo, departamento y año calendario. 2010 - 2025. Serie análisis demográfico 38. Buenos Aires.
Massey, Doreen (1994): Space, Place and Gender. Cambridge.
Ministerio de Hacienda y Finanzas Públicas (2016): Informes de Cadenas de Valor. Minería Metalífera y Rocas de Aplicación. Buenos Aires.
Ministerio de Hacienda y Finanzas Públicas (2019): Informes de Cadenas de Valor. Minerales metalíferos: oro. Buenos Aires.
Ministerio de Hacienda y Finanzas Públicas de la Nación (2018): Informes Productivos Provinciales. Santa Cruz. Ficha provincial. Buenos Aires.
Olivier de Sardan, Jean-Pierre (2011): The Eight Modes of Local Governance in West Africa. In: IDS Bulletin 42 (2): 22-31.
Owens, Susan E. (2015): Knowledge, policy, and expertise: the UK Royal Commission on Environmental Pollution 1970-2011. Oxford.
Svampa, Maristella / Viale, Enrique (2014): Maldesarrollo: la Argentina del extractivismo y el despojo. Buenos Aires.
Weber, Max (1980): Wirtschaft und Gesellschaft: Grundriss der verstehenden Soziologie. 5. Auflage. Tübingen.
Yakovleva, Natalia (2008): Models for community development: A case study of the mining industry. In: Marsden, Terry (Hg.): Sustainable communities: New spaces for planning, participation and engagement. Amsterdam: 47-74.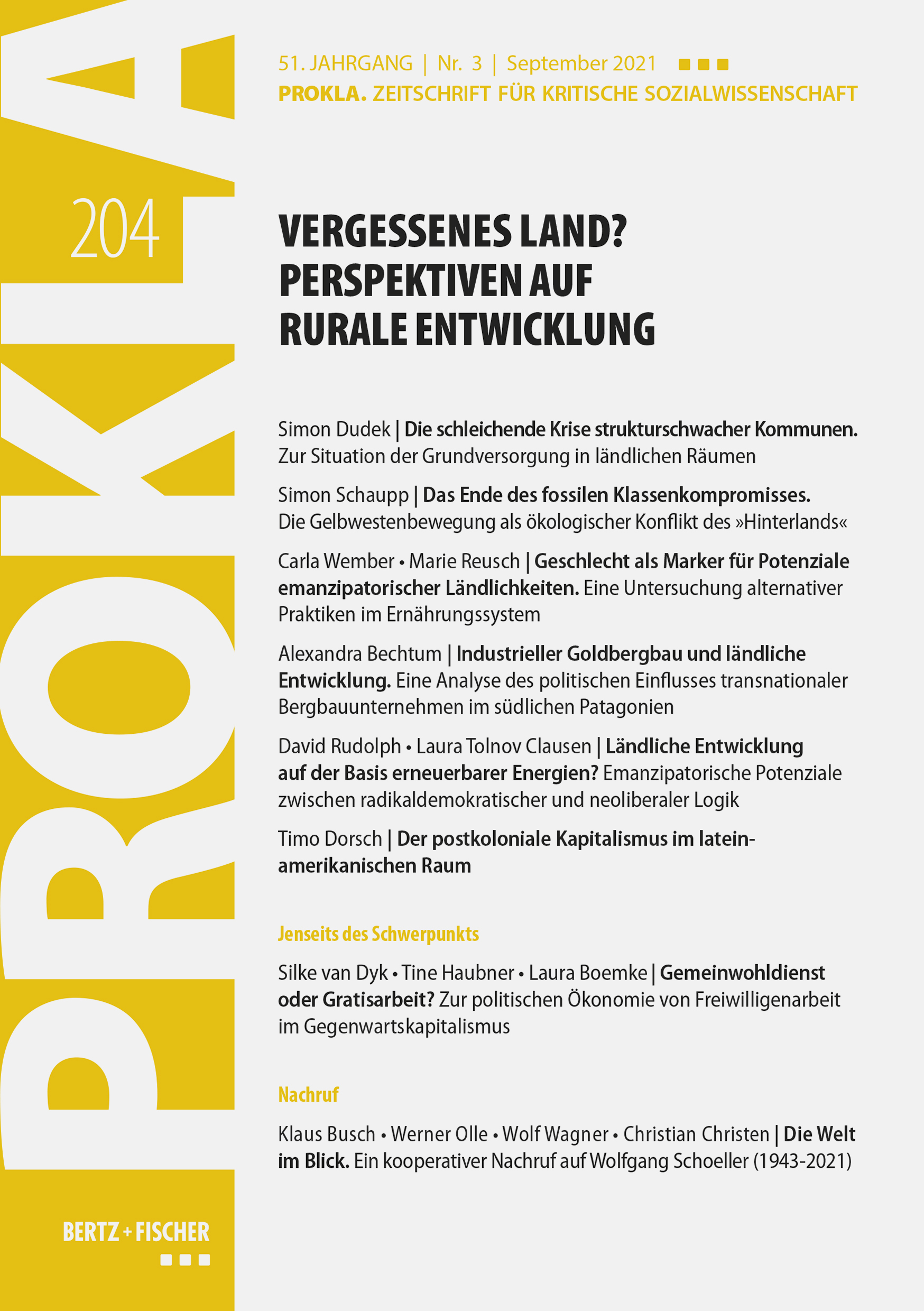 Downloads
Zitationsvorschlag
Bechtum, A. (2021). Industrieller Goldbergbau und ländliche Entwicklung.: Eine Analyse des politischen Einflusses transnationaler Bergbauunternehmen im südlichen Patagonien. PROKLA. Zeitschrift für Kritische Sozialwissenschaft, 51(204), 477–49. https://doi.org/10.32387/prokla.v51i204.1950
Rubrik
Artikel des Heftschwerpunkts